A classroom without worksheets? Many teachers would shudder at the thought! But for seventh-year, dual-language teacher, & mom-to-be Amy Lemons of Step into Second Grade, a classroom with worksheets isn't even an option. This talented teacher has a lot to share – some might say it's even a family tradition! And I happened to be lucky enough to snag a Q&A interview with her last weekend.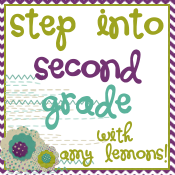 Even though I'm a fairly new blogger myself, I've been a religious follower of several blogs over the last two years. One of those – which happens to be one of my absolute favorites - belongs to Amy. Not only does she have one of the cutest classrooms I've ever seen (Can you say, student created alphabet on the walls?), she's got some incredible products at her TPT store. My fave is "It's About Time" which I couldn't resist because of the cute name. It has hours (pun intended!) of engaging activities from a flap book to a student clock and matching activity. My students were literally begging to do math!
When I first emailed Amy to see if she'd be interested in participating in my Great Blogger Interview Series, I was star-stuck with "Lemons-Fever"! I nervously clicked send and waited for what seemed like email eternity. When her response suddenly popped up – (not that I was laying in wait or anything…) – her infectious positive attitude was obvious. What a treat it must be to be a student in her class. What's her secret? You'll have to read on to find out!
Kate: Tell me about yourself and your teaching experience.
Amy: I am a second grade dual language teacher, which means I teach 2 groups of students each day. I teach in English and my teaching partner teaches in Spanish. I've taught 4th, 1st, and now 2nd grade.
K: How did you get into teaching?
A: My mom has been a teacher, administrator, and coordinator. I guess growing up under a teacher really impacted my life. I remember playing school when I was a little girl. Actually, my grader still says "Amy Green" from when I was about 10 years old :) I just love creating, planning, and working with kids!
K: What are your favorite subjects to teach? Favorite grade?
A: 2nd grade math, for sure! In dual language, we are not allowed to use worksheets AT ALL, which has really challenged my teaching and lesson planning. I spend a lot of time thinking of new ways to teach a concept so that all of my kiddos will get it!
K. What made you decide to start blogging?
A: I started exploring different blogs in 2011, and thought, "Hey, I could do this!" I have always made my own classroom decor and teaching materials, so I just wanted to be able to share with others! I love connecting with teachers from all over the world!
K: Favorite topics to blog about?
A: Activities that work in my classroom... I mean, we all just want to see pictures, right?! So, I get really excited when my class does a project that I can capture on my blog!
A: It's really made me a better teacher. I think a lot more about the lessons that I do, and even think, "Would my blogging buddies approve of this, ha?!" I also search the blogs a lot, so I constantly have new ideas to share with my class. As far as my life is concerned, it has really brought a lot of fulfillment!
K: What do your teammates, principal, other co-workers think about it?
A: Most of my coworkers really enjoy visiting my blog, and they use a lot of my ideas. I try not to talk about it publicly a lot, but word has gotten around my district that I have a blog. Over all, I've had very positive feedback, and it's fun seeing my materials displayed around the school!
K: What does your husband think about your blog?
At first, he thought I was CRAZY and a bit of a blogging dork, ha! But, now that I make money, he's all for it :)
K: What is the biggest goal you have between now and 2015?
A: Between now and 2015 I have to say that my main focus will be becoming the best mother that I can be! We are hoping to bring our little girl home from the Congo, Africa this fall, so that's where my energy and focus will be :). But, I do still hope to create and blog throughout those years as well!
K. Any tips or advice for other teacher bloggers out there?
A: There are so many blogs out there right now that you really have to stand out to get noticed. It's not like it was a year ago when I started blogging. Offer really great freebies, spend time visiting other blogs and commenting, and make sure that you post a lot of original ideas. Always, always, always give credit where credit is due :)
And credit is due to this teacher for sure. As she embarks on some new adventures this school year, I'll certainly be keeping up with her at Step into Second Grade. And you should too!